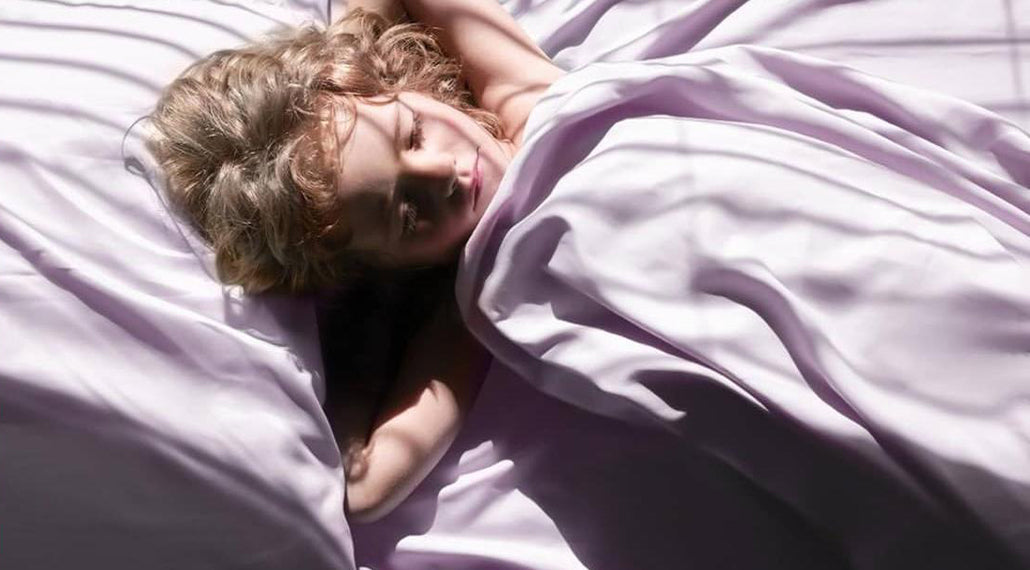 Do you love to sleep naked?
The sexy goddess Marilyn Monroe is a pioneer in advocating sleeping naked. She once said: "I only wear Chanel N°5 to bed."
As is known to all, sleeping naked has great benefits to our health. It frees us from the restraint of clothing, which further helps promote our secretion of sebaceous glands and sweat glands, and accelerates blood circulation. It can also help reduce our stress and relax the muscles, bringing us a deep and sound sleep. Now sleeping naked has become prevalent around the world as a healthy and fashionable way of sleeping. If you are a fan of sleeping nude wondering what bedding fabric to choose, here is a good chance to find it out.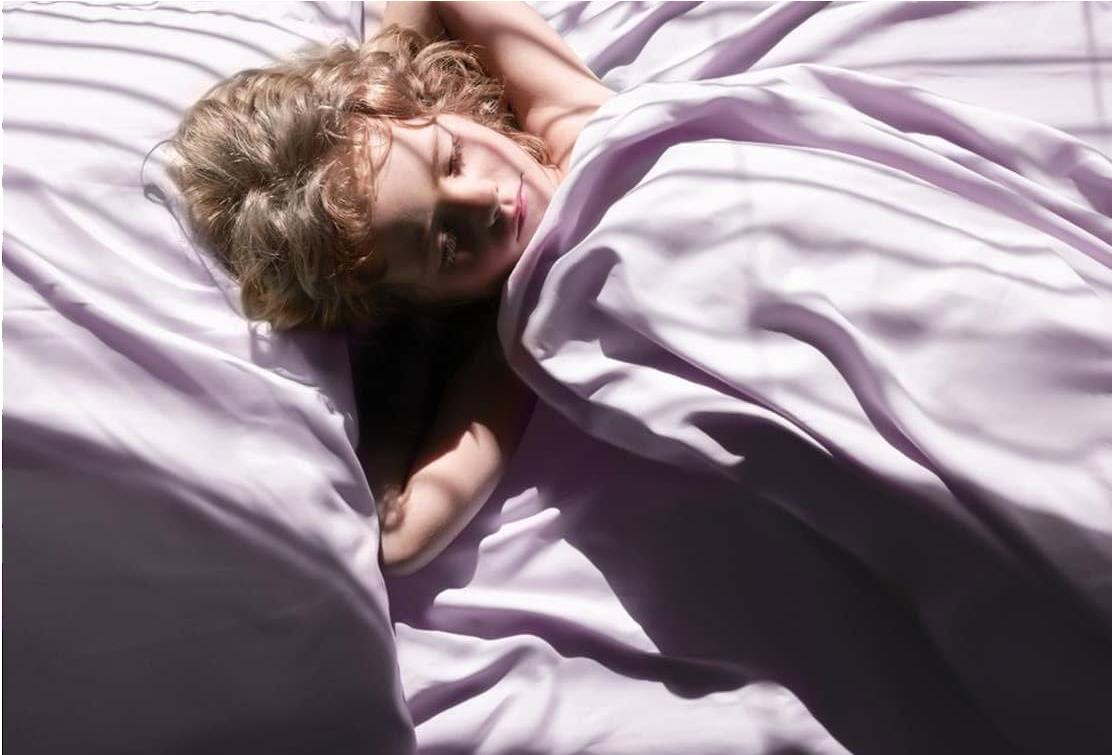 Our body contacts directly with the bedding while sleeping naked. Therefore, the bedding fabric must be soft, comfortable, breathable and skin-friendly. There are four types of fabric meeting all these requirements.
1. Pure Cotton
Pure cotton has the characteristics of comfort and softness, warm, strong moisture absorbing, low-static, washable, and durable. It is easy to process and dye, thus widely used in beddings such as cotton sheets and cotton quilts. As a kind of natural fiber, pure cotton is harmless and non-irritant to our skins. All these advantages make it a good choice for sleeping naked. Those who are pursuing cotton with higher quality can choose long-staple cotton, which is comfortable and softer. However, all pure cotton fabrics wrinkle and shrink easily. When you iron the cotton fabrics, it's helpful to spray water.
2. Yarn-Dyed Cotton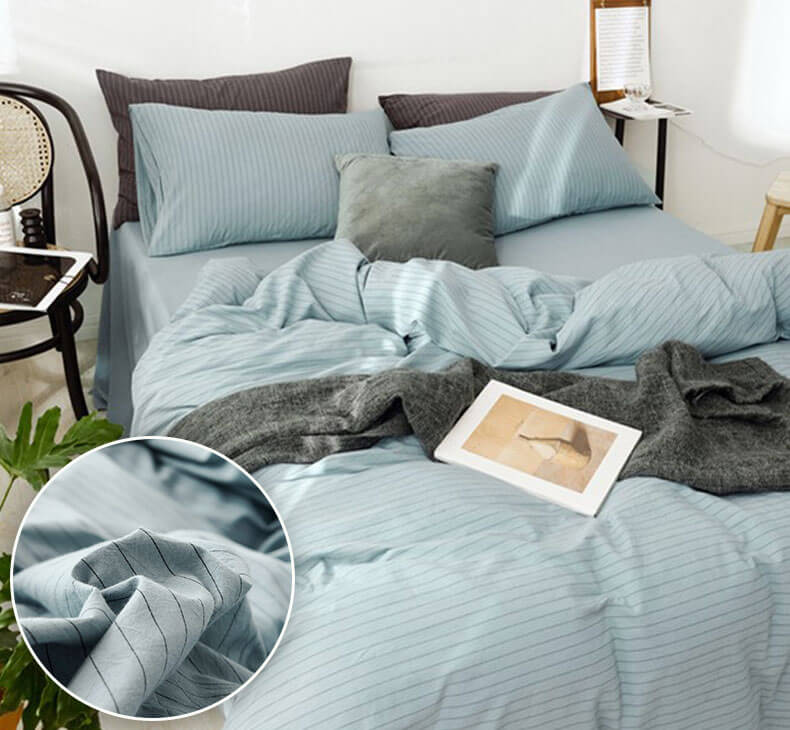 Dyed yarn cotton is a kind of pure cotton fabric woven from yarns (threads) dyed of different colors. Dyed before being woven into a fabric, it is colorfast. Weaving yarns with different colors make this fabric special, usually distinctive with stripes or plaids patterns. Of course, it remains some good characteristics of pure cotton, good for people favoring sleeping naked. What's bad for yarn-dyed cotton is that it shrinks more easily than pure cotton.
3. Percale Cotton
Percale, or high thread count cotton with jacquard, is another type of pure cotton fabric. Featured with tight weaves and various weaving methods, it is thick, durable and smooth. Percale cotton is a kind of high-quality pure cotton fabric great for people who sleep naked.
4. Silk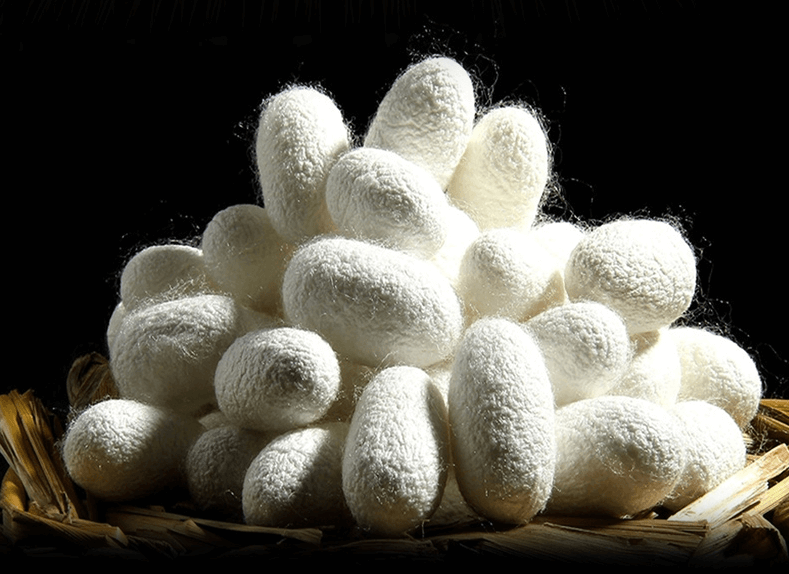 Silk is a long fiber coming from the cocoon of mature silkworms. It contains animal protein and rich amino acids, which accelerates the human metabolism and helps maintain our skin moist and smooth. It is well known as comfortable and breathable, but not easy to take care of. The gorgeous appearance of silk fabric is labeled as a symbol of wealth. What's more, it features a natural and nice sheen, high strength, good elasticity, and moisture absorption better than pure cotton fabric.
There was once a famous scene in the film "Atonement." Keira Knightley (the leading actress) wore a shining green silk dress, with the lightweight skirt floated in the wind, making her extremely stunning in this movie. With this silk dress, she was so elegant, retro, and seductive.
Looking at this scene, we can't help thinking about how smooth and comfortable it feels. What if making silk fabrics into bed sheets or duvet covers? Sleeping naked must be one of the best things in the world!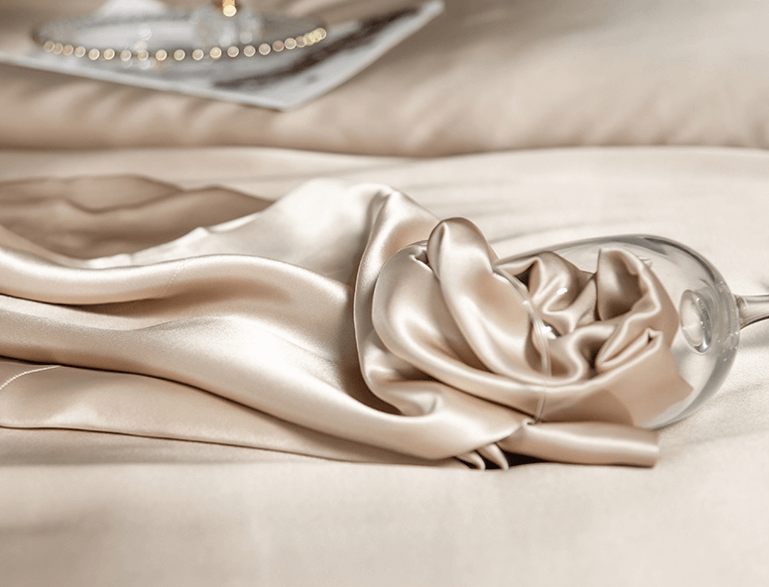 However, silk fabric is a costly material. You can choose a silk bed sheet if you can afford it. It is the most skin-friendly material, which will double your happiness of good sleep. Therefore, silk is the most suitable fabric for sleeping naked. There are also some disadvantages of silk. It's hard to care, easy to snag, and low resistant to strong sunlight.
In general, all the fabrics above are suitable for sleeping naked, and you can choose based on individual preferences and budget. In addition, whether you love to sleep naked or not, it's necessary to select bedding materials carefully. After all, we spend nearly one-third of our lives in bed. A set of high-quality and comfortable bedding will help ensure us a relaxing and sound sleep.