What is Macrame?
Many of you may have seen the pictures of gorgeous macrame decorations like macrame curtains, macrame wall hangings and macrame plant hangers-on Instagram or other platforms. However, you might not know what exactly "macrame" means.
Macrame is the art and craft that produces various patterned textiles by creating decorative knots. It's usually completed by hand instead of using any tool like needles. Therefore, macrame has become a trendy crafting technique among those who love to work with hands.
Macrame is a versatile and creative art that can be used to make various crafts and decorative items such as curtains, jewelry, bracelets, wall hangings, throw pillow and other decors.
Osunnus Large Long Boho Macrame Curtain Window Room Divider Doorway Curtain
The Origin and Development of Macrame
Macrame is not a newly emerged craft but a traditional one revived by some crafters and artists due to its beauty and practicality, which has gained more popularity worldwide.   
The history of macrame can date back to the 13th century. Many think that the name comes from the Arabic word 'migramah', which means 'fringe,' as there were Arabic weavers using this method to create decorative fabrics like shawls and towels. However, it's also said that in the third century, people in China have already used elaborate knots as decorations on lanterns and clothing.
While the macrame's origins remain unclear, it's been widely spread across Europe and the rest of the world since the 13th century. From the 14th century to the 16th century, macrame was introduced to different countries of Europe and became a popular craft there. During the 17th century, even Queen Mary II of England was fond of this art and taught it to the ladies-in-waiting. Sailors in this period also contributed a lot to the spread of macrame knotting as they would make various macrame items during the long voyage and trade these pieces once they got to a new port.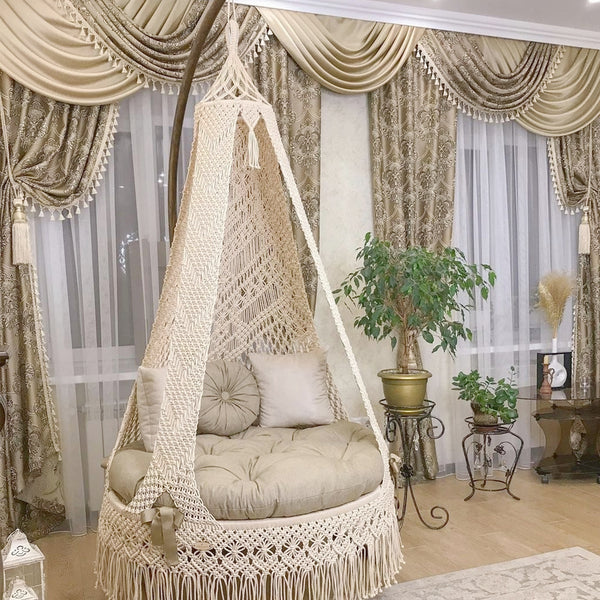 In the Victorian Era, macrame reached its peak when a rising number of women were encouraged to learn macrame and craft many decorative pieces like macrame curtains. However, with the beginning of the Industrial Revolution, the macrame technique was gradually replaced by machines, and this craft was out of favor for decades.  
It was during the 1970s that macrame knotting became popular again for a short time. There was a preference for macrame fabric in home decor and fashion fields. Most homes often saw various macrame products such as wall hangings, home textiles, clothing, and other accessories. Unfortunately, this trend dies down quickly in the early 1980s.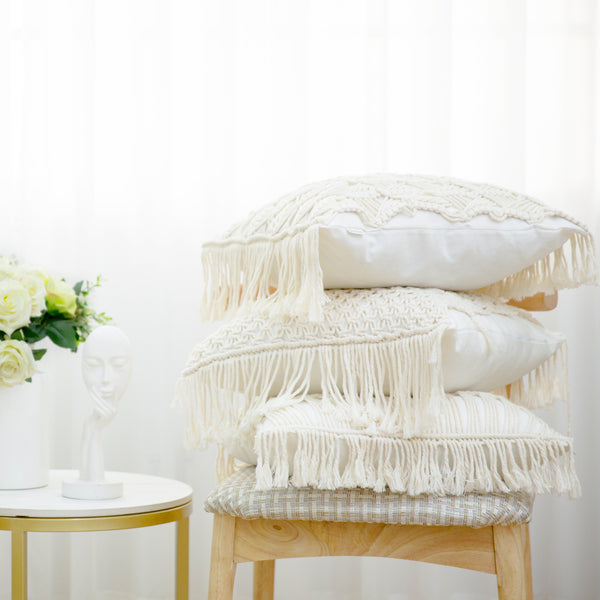 Thanks to the popularization of social media, macrame gains enormous love from people of different cultures. It's now often seen in bohemian interior design, no matter rustic or modern. So, you can find a wide range of products produced through the macrame technique, including plant hangers, belts, bags, wall hangings, and friendship bracelets.
Basic Types of Macrame Knots
There are a number of different knots used in macrame. Some of them are simple, while some are complicated. And there are some key knots for beginners of the macrame knotting technique. If you'd like to start a macrame project, it's recommended that you learn these basic knots first and then make combinations based on them.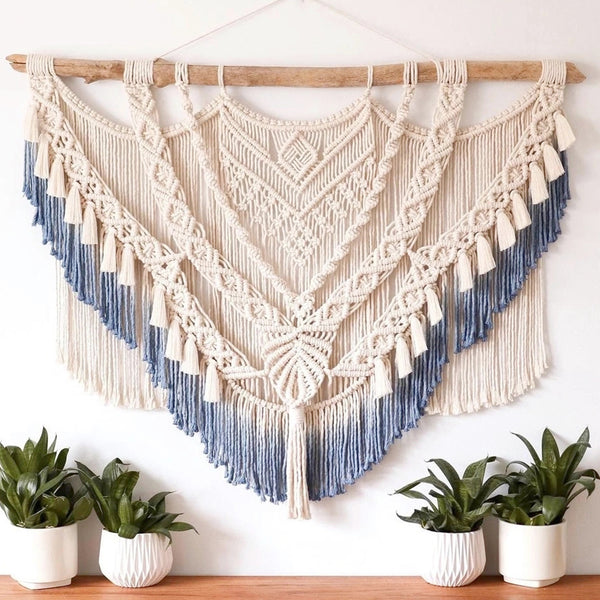 These knots are classified into four categories: mounting knots, square knots, hitch knots, and gathering knots.  
1. Mounting knots
Mounting knots are the simple knots used to attach cords to an object, such as a wooden ring or a metal hoop. The two main mounting knots are the lark's head knot and the reverse lark's head knot.
2. Square Knots
Square knots and half square knots (also known as spiral knots) are the most frequently used knots in macrame. A square knot is made with four cords: two outer cords (also called working cords) and two middle cords (also called filler cords). This category of knots is super versatile because you can create a lot of variations based on it.
3. Hitch Knots
Hitch knots and the variations are more complicated than the knots above, so they may be a bit challenging for macrame beginners. However, hitch knots can create various pretty designs. Typical hitch knots are half hitch knots and double half hitch knots (or clove hitch knots).
4. Gathering Knots
As the name implies, gathering knots is a group of knots used to complete a project like a macrame planter. The overhand and wrapping knot are typical gathering knots in terms of application. The former is often seen at the end of a rope or two cords to avoid unraveling, while the latter can be used at the beginning or end of the project to secure a group of strings.
Common Materials of Macrame
You don't need to buy expensive materials or use complex tools to make a macrame item. Generally, most macrame projects need cords, scissors, measuring tape, a mounting base, and other decorative items.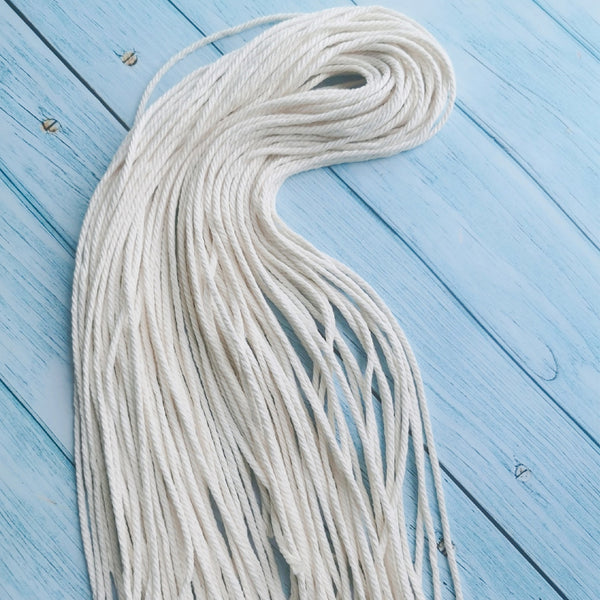 1. Cord
The cord is an essential supply as it's the key material you make knots with. There are a variety of cord materials for you to choose from, including natural and synthetic fibers such as cotton, jute, hemp, leather, linen, or wool.
The thickness of the cord is also a crucial element to consider. Thin threads are great for small projects like jewelry, and you may need to go for thick ropes if you'd like to do a finfish macrame project like an area rug.  
2. Scissors and Measuring Tape
Before starting your project, determine your macrame item's size and dimension. Then use measuring tape and scissors to cut the right length of cord needed for each step.
3. Mounting Base and Decorative Items
If you are making a wall hanging, you will need a mount to hang it. Suitable materials include hooks or rings made from metal or wood. To add the aesthetics of your macrame piece, it's a good idea to use some decorative elements, glass or wooden beads, for instance.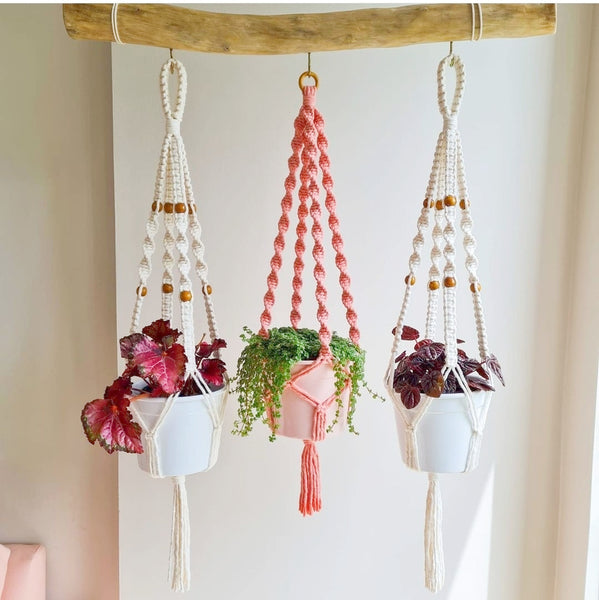 Macrame Decor Projects
There are numerous macrame projects you can do. Once you get familiar with the knotting techniques, you will be able to make creative patterns and finish unique macrame items of your own. Here are some popular small and large macrame decor projects you can try.
Macrame keychains
Macrame bracelets
Macrame plant hanger
Macrame bag
Macrame table runner
Macrame throw
Macrame wall hanging
Macrame swing
Macrame hammock
Macrame curtain