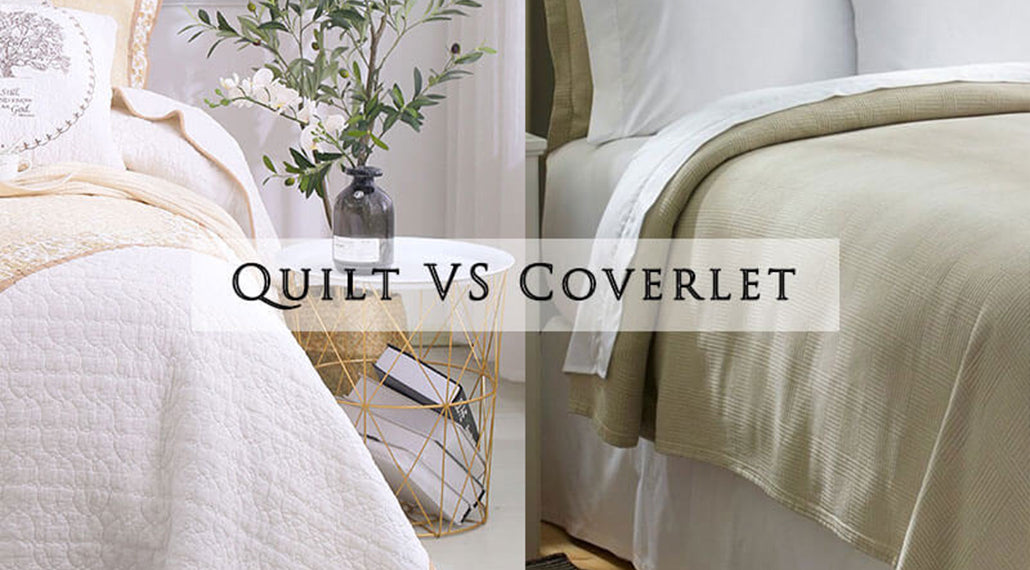 What is a Coverlet?
The coverlet is a type of blanket with decorative embossed patterns, lightweight and thin. It is made of a single layer of fabric, mainly cotton and linen, suitable for all seasons. The coverlet is perfect for platform beds because it is long enough to cover the mattress entirely.
What is a Quilt?
The quilt is a thin bed cover made from three layers of fabric: a top layer, filling batting, and a bottom layer. They are all stitched together in different decorative patterns. Quilting technology has a history of more than 500 years. Traditionally, at least one side of the quilt is pieced by many rags, both ornamental and practical. Quilts are usually thinner than comforters but thicker than coverlets. They cover a larger area than coverlets by extending from the bed head down to the floor.
There are three types of quilting processes: hand quilting, manual machine quilting and computerized machine quilting. At present, computerized quilting has gradually replaced the other two. Quilts processed with a computer may feel not as good as handmade quilts. However, people prefer computer-processed quilts as it is more efficient, cheaper, more beautiful and more neatly stitched. Based on different patterns, the quilt can also be categorized as printed quilt, embroidered quilt, patchwork quilt, plain quilt, etc.
Standard Coverlet & Quilt Sizes
| | | | | | |
| --- | --- | --- | --- | --- | --- |
| Size (inches) | Mattress | Fitted Sheet | Flat Sheet | Coverlet 16" drop | Quilt 21" drop |
| Twin | 39" x 75" | 39" x 75" | 66" x 96" | 71" x 91" | 81" x 96" |
| Twin XL | 39" x 80" | 39" x 80" | 66" x 102" | 71" x 96" | 81" x 101" |
| Full | 54" x 75" | 54" x 75" | 81" x 96" | 86" x 91" | 96" x 96" |
| Queen | 60" x 80" | 60" x 80" | 90" x 102" | 92" x 96" | 102" x 101" |
| King | 76" x 80" | 76 x 80 | 102" x 112" | 110" x 96" | 120" x 101" |
| California King | 72" x 84" | 72" x 84" | 102" x 112" | 104" x 100" | 114" x 105" |
Coverlet vs Quilt:Differences and Similarities Between Quilts and Coverlets.
Similarities:
They both have decorative patterns on the surface.
They both are pieces of thin blankets.
They both can be used as bed covers or bedsheets.
They both are suitable all year round.
Differences:
Coverlets are shorter than quilts. Coverlets usually drape down to the bed skirt, while quilts can extend down to the floor.
Coverlets are thinner than Quilts. A coverlet is made from a single piece of fabric, while quilts are sewn with three layers of material: a decorative top layer, a padded, lightweight middle layer, and a solid bottom piece. The fabric of the top layer and bottom layer may differ in patterns.
Coverlets are usually part of the bedding set that cannot be used alone. They are spread over the bed for warmth or folded up at the end of the bed as a decorative element. However, quilts can either be used alone or be paired with other thicker bedding.
The Advantages and Disadvantages of Quilts and Coverlets. 
Advantages:
Highly decorative
No matter how messy or bad-looking your bed is, you can simply flatten it and cover the bed with a lovely quilt or coverlet to make your bedroom neat and beautiful.
Easy to clean.
Coverlets and quilts are machine washable. They present in good shape and feel comfortable in hand after dry heat sterilization.
Super durable.
Their lifespan ranges from ten to fifteen years due to the difference in grades and quality.
Suitable for all seasons.
When it is hot, you can sleep with a coverlet or quilt with the air conditioning on, so you will neither get hot nor catch a cold. A coverlet or a quilt paired with other thick bedding will keep you warm but not overwhelmed when it is cold. In addition, quilts and coverlets can also act as bedsheets much warmer than those thin bedsheets.
Incredible versatile.
A Coverlet or a quilt is not intended for use as bedding only. It may also be used on the sofa, on the floor or on the grass outdoor. Remember not to throw it away in a hurry just because it has been used for a long time or you don't like it anymore. You can change it into a blanket on the sofa, a large carpet in the bedroom or even a picnic mat for outdoor activities.
Disadvantage:
Most of the quilts and coverlets are made of pure cotton. It is common that quilted fabric tends to look old in appearance and even wrinkle after washed with water numerous times.
How to Choose Quilts and Coverlets?
Quilts and coverlets are both suitable for most of us except hot sleepers. If you sleep hot at night, a thinner and lightweight coverlet is the best choice.
You can also make a choice by comparing the fabrics, sizes and patterns of quilts and coverlets.
Fabrics
Pure cotton is the top option because it is skin-friendly, soft, durable and non-static. Material made of synthetic fibers is not soft and breathable enough, while silk is too expensive and hard to maintain.
Sizes
The quilts or coverlets you choose need to match your bed sizes. If you have a twin size bed, go for a twin size quilt or coverlet. They are usually designed larger than the bed of the same size, hanging down as decorative bedding.
Patterns
There are various patterns available for different styles of bed or bedroom. Quilts or coverlets with plain colors and patterns work well in a bedroom of any type. Those with neuter plain colors are suited to both men and women. The elders favor traditional patterns, while the young generation prefers modern, stylish and simple designs.
That's all about quilts and coverlets. We Hope it helps you in some way.