Bringing nature into the home has been trendy these years since natural and organic elements offer freshness, calmness and inviting aesthetics. From your living room to the bedroom, a take on nature can create a touch of uniqueness and fresh breathing for your space. Here are eight nature inspired decor ideas that you may need to bring the outdoors into your home.
Natural Wooden Table 
A wooden table standing in the middle of the living room will be a natural focal point. Whether it features a rustic, vintage finish or sleek, minimal lines, it will provide a profound natural appeal for your interiors. It can also live its life for many years to come in your home. 
Rattan & Wicker Chair
Rattan and wicker chairs are perfect options for balcony gardens, patios and porches. They will provide a distinct cottage and coastal look, which inspires a natural and organic feel. Generally, they are woven into round baskets or egg shapes, offering stylish and sturdy seating anywhere they sit. 
Potted Plants & Succulents
The easiest way to create a natural appeal is to decorate your home with real plants such as potted plants and succulents. You can place them on the dining room table, coffee table or bedside table in the bedroom. They bring life and natural beauty into the house and will cheer up any part of the room.
Organic Handknit Throw Pillows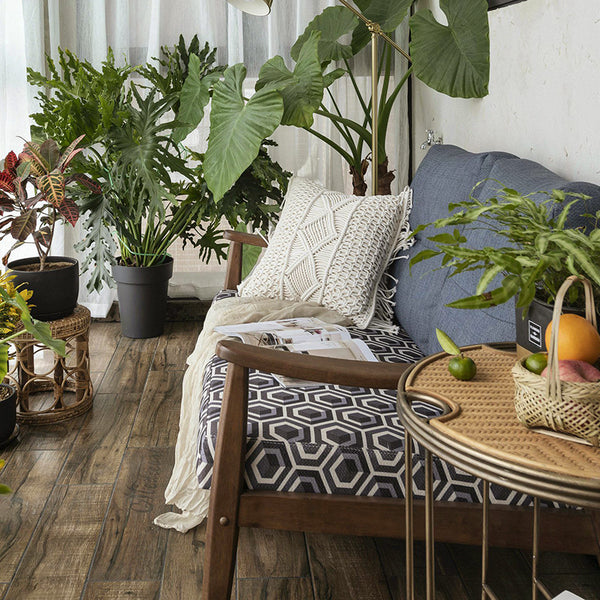 Need something neutral to balance your greenery around the living room? You can easily make it by placing one piece or two organic cotton textiles on the sofa, for instance, boho throw pillows. Hand made from first-class cotton material, boho throw pillows feature delicate knots and playful macrame. They will offer an exceptional softness and white hue of natural cotton.
If you want to decorate your bed with natural bedding but don't like it to be vibrantly colored, then there's a series of farmhouse bedding sets with botanical prints. The floral quilt features a soothing and nostalgic color palette and patchwork craftsmanship that brings us back to the cottage of the grandma's country. Those botanical prints will bring you the natural breeze of spring, summer, and autumn scenery.
Plant Wall Decor
Don't forget the blank wall in the foyer or above your bed. It's an excellent choice to hang some dried flowers or lightweight plants as some real natural embellishments. Also, you can find several framed botanical prints to go with your bedding or other decors in the room and enhance the overall natural atmosphere. 
Seashells
Seashells are among the most common decorations you can find at the beach during your vacation. Take them home and place them on the antique wooden coffee table or in your modern bathroom to give your space a natural, beachy vibe. They are great options to decorate your home from spring to summer.
Natural Sunlight
Speaking of easy and cheap natural elements, natural sunlight is a perfect choice. Design your window in a way that allows as much daylight as possible into your room. It will brighten up the room and make the sofa, throw pillows, and anything else come alive. What's more, it brings warmth, coziness and relaxation to humans.