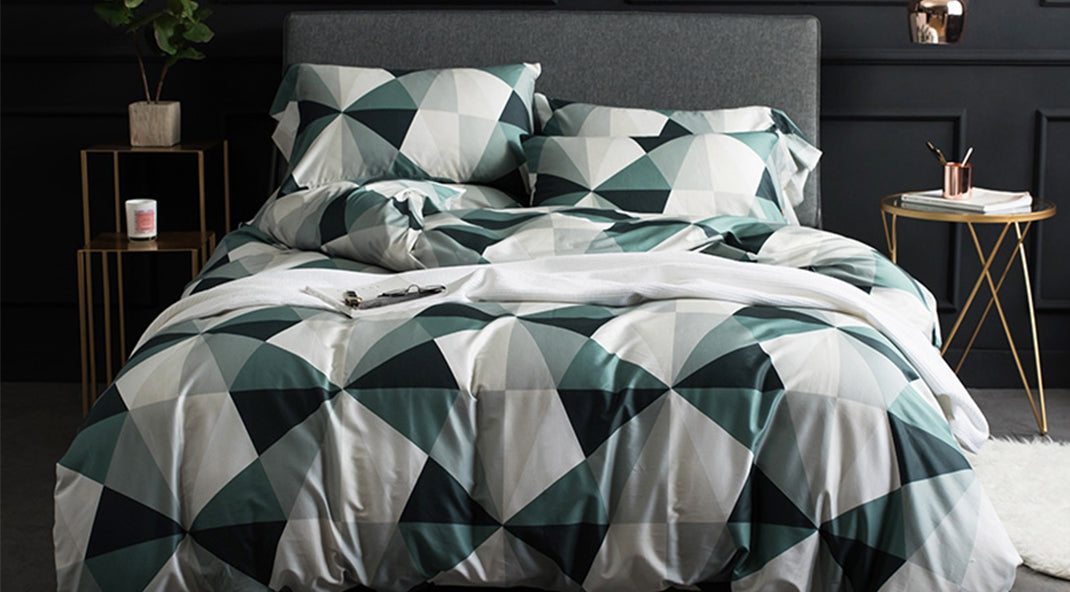 Like bedding color design, the pattern design is a crucial part in bedding. It is to connect individual bedding items by matching patterns of various sizes, shapes, and styles. Generally, it is achieved by changing the same pattern's size, shape, layout, and color brightness. In such a way, the overall bedding will look orderly, unified, but variable.
Patterns such as plants, animals, and geometric figures are commonly used in bedding design. Plant patterns include large flowers, small flowers, concrete flowers and abstract flowers. The same pattern on different bedding products can echo and harmonize with each other. Therefore, specific changes in the size, shape, layout and color brightness of the same pattern will help enhance the overall bedding style.
Here are the best four methods for bedding patterns design.
1. Free Combinations of the Same Pattern
A basic pattern will develop various forms based on the changes of its size, position and layout. Then different pattern combinations can be gained and applied to individual bedding items, between which the pattens will generate successive, changing and interlaced rhymes. These rhymes imply the unity and harmony of the whole bedding set and the surrounding environment, thus bringing them together.
2. The Same Pattern with Positive and Negative Space
If a single pattern occurs repeatedly, it will be monotonous and dull due to the lack of changes. Therefore, adding some fun to the design while sticking to its harmony and unity is necessary. The easiest way is to style it with positive and negative space through contrasting colors, which will surely add a sense of depth to the bedding without appearing chaotic.
3. Theme Pattern Repetition
The theme plays a significant part in bedding design. Although patterns of the same theme may vary in their composition and production methods, what they express and present is the same due to the uniqueness of the theme itself and the consistency of the unit body design. Start with a theme pattern, and try different collocations based on it to achieve the aesthetics of uniformities.
4. Color Variation Based on Fixed Patterns
If the pattern is set, variations in color will help a lot to enrich the bedding. Slight changes in the color tone and hue are appropriate while keeping the same brightness and purity. Or change the purity and the shade to make it entirely another color, as is shown in the picture above.